Cali Greens CBD 750mg Oral Drops (Pomegranate) 15ml
Cali Greens CBD 750mg Oral Drops (Pomegranate) 15ml
Stay on top of your day with our crisp and fruity Pomegranate drops available in 750mg and 1500mg strengths.

Designed to uplift your senses, Cali Greens have combined Hemp CBD with the most delicious and relaxing aromas specially blended to calm your body and mind.
Highest Concentrate of CBD(15ml)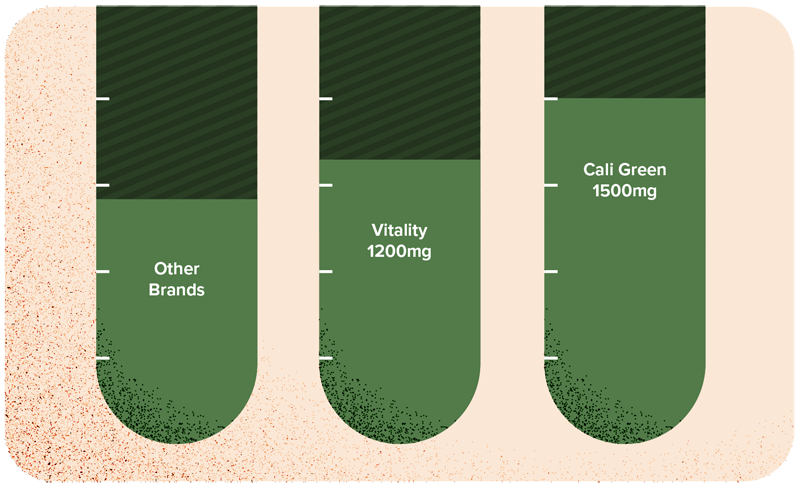 Faq's
FAQ's
Discover Cali Greens CBD
CBD stands for Cannabidiol. A natural extract of the Hemp plant that is perfectly legal and non-psychoactive. CBD won't get you high, but it will provide many other benefits.

CBD is different from THC, which is the psychoactive component found in marijuana. People often assume that Cannabis is the same as marijuana, but in reality, only a few plants in the Cannabis family contain THC. At Cali Greens, we extract our CBD from sustainable and legally grown hemp farms in Colorado, USA with no trace of THC.
At Cali Greens, we value the true worth of life, liberty and the pursuit of happiness. We specialise in premium quality and high strength CBD products that are crafted for a blissful, everyday experience. everyday experience.

Our mission is your wellness. Our unique range of skincare products, drops and vapes give you flexibility and peace of mind. We pride ourselves on helping you live life to the fullest by supporting a healthy and balanced lifestyle.
Cali Greens' premium CBD extract is derived from sustainable hemp farms in Colorado, USA. Hemp is an extremely versatile and robust plant with an extremely low environmental impact and has been grown for thousands of years. Hemp plants rapidly capture carbon dioxide from the atmosphere, helping reduce CO2 levels and cleaning the air.
Frequently Asked Questions
Cannabinoids are naturally occurring compounds found in the Cannabis sativa plant. The most common compounds are CBD (Cannabidiol) and Tetrahydrocannabinol (THC), though there are around 60 cannabinoids present in the plant.
What are the differences between CBD and THC?
Both compounds interact with your body's endocannabinoid system, but they have very different effects. A distinctive atomic arrangement causes THC to have psychoactive properties, whereas CBD behaves differently and has no negative side effects.
How much CBD should I use?
Everyone is different and the recommended dosage of CBD really depends on lots of individual factors such as age, gender, weight and the reason for which you are using CBD products. We recommend that you start off at a lower amount and work your way up.
No, CBD is non-psychoactive, meaning it doesn't produce a 'high' effect'. The intoxicating effects associated with cannabis are produced by another cannabinoid called THC.
Are there side effects from using CBD?
Some users may experience side effects from using CBD including low blood pressure, dry mouth, light-headedness and drowsiness. These side effects depend on the amount of CBD you take and many people don't experience any at all.
Can I drive after taking CBD?
Yes, you can drive after taking CBD, it's perfectly legal and non-psychoactive. Our products are THC free and won't produce intoxicating effects. However, if you feel dizzy after taking CBD, which can be fairly common for newcomers, then don't drive until the effects wear off.
What is the difference between CBD Oil and Hemp Oil?
CBD oil is produced from dissolving CBD extract in MCT oil, or another carrier oil, and has no intoxicating effects. Hemp oil on the other hand is obtained from Hemp seeds after a process known as Cold-pressing. The Hemp oil extract contains trace elements of THC and does have psychoactive properties.
Product Information
What is CBD Vape and why is it different?
CBD Vape is a Cali Greens collection of CBD-infused e-liquids. E-liquids are designed to be vapourised by an e-cigarette device, allowing CBD to be absorbed into your lungs. The absorption rate is high compared to other forms of delivery as the CBD is in a gaseous state which also increases distribution efficiency around the body. The effects of vaping CBD can be felt in as little as 30 seconds but are typically shorter-lived than other methods.
What are CBD Drops and why are they different?
CBD Drops is a Cali Greens range of CBD-infused oral drops. Liquid drops are designed to be taken orally, or for best results, placed sublingually under your tongue for 2 minutes to increase the absorption rate. CBD is metabolised and distributed all over the body over a period of 3-5 hours, providing longer-lasting benefits and a source of everyday relief.
What is CBD Touch and why is it different?
CBD Touch is a Cali Greens range of CBD-infused creams and lotions. Topical creams are designed for your skin and allow you to target a specific area of your body. CBD is absorbed through the skin along with a blend of natural ingredients that moisturise and relax the desired area. The effects can be felt immediately depending on the amount you apply.
Do you use full-spectrum CBD oil or CBD Isolate in the CBD Go product?
We only use CBD Isolate in our CBD Go. CBD Isolate is the purest form of naturally occurring CBD, containing up to 99.9%.
What is the base for CBD Go?
We use Propylene Glycol and Vegetable Glycerine as a base for our CBD Go range. These two compounds produce a superior vape which is far safer than vaping oils as solvents.
What type of device is suitable for CBD Vape?
We recommend using a refillable vape pen or a 'tank-style' vape with a battery.
Do you use full-spectrum CBD oil or CBD Isolate in the CBD Drops?
We use both CBD Isolate and full-spectrum CBD oil in our CBD Drops. Combining the two forms increases the efficiency of CBD in your endocannabinoid system, without any harmful side effects.
Do the CBD Drops contain Terpenes?
Yes, our CBD Drops also contain Terpenes. Terpenes are naturally present alongside CBD before extraction from the Hemp plant. We add them back in after extraction to ensure you get the best results. The presence of Terpenes is essential for full-spectrum CBD oils as they help produce the best possible effects.
How many CBD Drops can I use daily?
We recommend that you use 3-4 drops (750mg) up to twice a day, or 1-2 drops (1500mg) up to twice a day.
What ingredients are in CBD Touch?
We use a range of natural ingredients your skin will love, like Shea butter, Coconut oil and sweet almond oil. The Touch range contains CBD Isolate. Isolate is the purest form of naturally occurring CBD, containing up to 99.9%.
How long should I use CBD Touch?
Every individual's CBD requirement is different. However, we suggest you use CBD Touch for at least a couple of weeks.
Does the Muscle Rub contain essential oils?
Yes, we use Eucalyptus oil along with a CBD Isolate base in our Muscle Rub. Eucalyptus essential oil is distilled from the leaves of the Eucalyptus Tree and has natural clarifying properties.
Are your products tested to high standards?
Yes, all our products are tested to the highest UK standards. We test and record every batch of CBD that we produce to ensure you get the highest quality and right amount of CBD.
Most of our products are vegan. All of our products with the exception of our CBD Touch range (including Body Butter, Muscle Rub and Lotion) are vegan. Our CBD Touch products include Beeswax.